As industrial applications and warehouse functions are leaning towards accuracy and efficiency, the need for a durable light table cannot be overstressed. Investing in an A-grade industrial light table can work wonders for enhancing the inspection process. Thus it makes drafting easier. It facilitates users to present their ideas in a unique and detailed way to their clients.  Most Light tables are generally used in a variety of different applications, ranging from checking manufactured parts for light gaps to presenting x-rays to a group of physicians.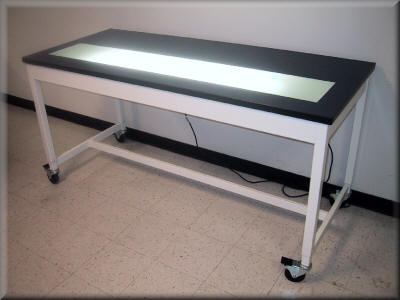 For most business owners, a light table is a substantial investment, especially since they are procured in groups or batches. Hence it is absolutely imperative to get the best quality light table from a reputed manufacturer. However, with so many brands and models available in the market today, making that decision is often a confusing and taxing one. More often than not, buyers end up making the wrong choices and are left stuck with sub-par quality tables. Of course, the main consideration is always the nature of work associated with it, along with some additional considerations.  This article aims to educate readers about the considerations while selecting a light table for drawing.
1.    Type of Base: The first consideration is the base of the table, whether it has any requirements for locomotion or to remain stationary. This will dictate the kind of base that will come along with the light table. They will either require industrial grade casters for movement or no casters at all.  Some good quality light tables also have casters with stop-locks, to make such tables easier to relocate and fix.
2.    Clear Surface: The surface which is used to reflect the light should be clear for performing inspection activities. This becomes extremely important to stained glass artists, who require proper lighting for handling intricate details. Users should avoid tables with plexiglass surfaces, as they are not suited for use with soldering irons, which most stained glass artists use.  The surface should thus be a good reflecting surface of light while providing the same level of functionality and durability expected in industrial applications.
3.    Source of Light: Probably one of the most important aspects of the light table, the light's power source should always be considered. Most light tables use a power cord or a battery to power the lights.  Whatever may be the source of power, all lights used must be temperature sensitive, and cool to touch. A very useful example is LED lighting, used extensively in a variety of industrial applications. The light source is present usually under the glass panel, which keeps things cool and comfortable for workers.
For X-ray viewing or other critical hospital or medical applications that require an abundance of light, light tables should only be purchased from manufacturers who are well-informed about existing hospital regulations.
4.    Work Surface: Along with the lighting surface of the table, the work surface around the clear lighting surface is also a critical component, especially if the table requires to be transported with parts or components on it.  Many light table variants have solid sides or a tray feature for aiding movement. This not only protects the lighting surface from damage but also eliminates the risk of dropping or displacing small components. Light tables used for viewing architectural drawings require the work surface to be tilted for effective display of blueprints and other related documents.
5.    Low maintenance:  Light tables are usually perceived to be a long-term asset, and it should not have frequent maintenance requirements.  For a clinical light table, the ease of cleaning is an important consideration. For applications involving chemicals or other corrosive substances, the surface, legs and other parts of the table should be able to tolerate the vigour associated with chemical or substance based activities.
6.    Licensed and Reputed products:  For industrial components and tools, quality is a huge consideration, especially since a myriad of different brands have started producing their own products. Users should thus make sure that the components they are getting are duly licensed and certified. One way to achieve this is to acquire tables from a reputed and experienced manufacturer.  A competent industrial manufacturer will make sure that all its products go through an effective screening and quality checking process.  All components and parts must be licensed and adhere to all required industrial standards.
7.    Product Pricing: Although an important consideration, business owners often make the mistake of taking only the product price into consideration and make decisions based on it.  However, it is important to know that quality should never be compromised. The cheapest product will not guarantee full functionality and thus it is important to look at other functional aspects along with price while making the decision.
Like in the case of most industries, the market is flooded with several light table brands from manufacturers claiming to be the best. For a user, it is thus imperative to know about the right factors that dictate the quality of a light table. The above factors can be taken into consideration while making the decision to purchase.